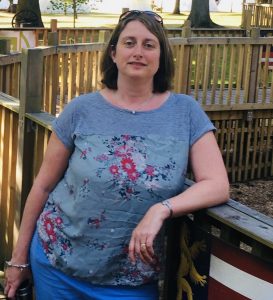 Julie is a REALTOR and licensed NC Real Estate Broker. Originally from United Kingdom Julie relocated to Raleigh in 2007 initially for 3 years and fell in love with the Triangle area and so never left!
Julie works very hard every day to help her clients to sell and find the home they love whether they are moving from out of state, overseas or making a move across the Triangle.
Julie's specializes in corporate relocation having assisted over 250 different families move into the Triangle area. She has partnered with executives from many of the large multinationals in the RTP including:
Lenovo,
Credit Suisse,
Deutsche Bank,
GSK,
Merck,
Microsoft,
ABB
Fidelity.
As well as assisting moves from out of the state she has considerable expertise working with international relocations and assisting expats for whom real estate transactions may be very different to back home. She helps her clients find a home, explore the area and understand more about neighborhoods, local communities and schools.
Julie pursues excellence in all she does and she devotes herself to serving the needs of her clients before, during and after the transaction. By asking the right questions, providing researched responses and working in partnership with her clients, she helps navigate the home search process to be as smooth as possible.
Julie has always had a passion for real estate, beginning her career in the UK as a real estate attorney before moving into nonprofit management for faith based agencies. She graduated top of her class in law school and holds a First Class Honors Degree in Law and postgraduate qualifications in theology and leadership.
Julie lives in North Raleigh with her husband and three elementary aged kids. They are active in their local community and church. As a Brit she is self proclaimed tea snob – just ask her how to make the perfect cup of tea!
Phone: 919-720-1944
email: JulieSwain@oakviewnc.com
Linkedin profile: https://www.linkedin.com/in/julie-swain-b3837155/
Facebook Page: https://www.facebook.com/search/top/?q=julie%20swain
Click here to add Julie's MLS APP on your smart phone: https://app.homespotter.com/?asr=1&sui=28795450